Statement from the Committee to Save the New York Public Library: Thank You to All Who Helped Make this Victory Possible!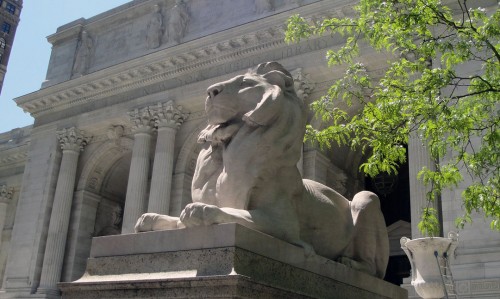 The leadership of NYPL has finally come to its senses and abandoned its hugely unpopular Central Library Plan. All of us at the Committee to Save the New York Public Library are gratified that the Mid-Manhattan Library will be saved and the stacks in the 42nd Street Library left intact. Now it remains for us to persuade the library leadership to fix the mechanical systems in the stacks so the books can be returned there. This great building, meant for readers and the books they love, can now fulfill its purpose for another century. It is a great victory for the people of New York and for the library at the heart of the city.
Our group started with a petition signed by scholars, readers, architects, and citizens. Through the effort and support of library lovers from all walks of life we have organized and led the opposition to NYPL's wasteful Central Library Plan. Today we thank our allies: Citizens Defending Libraries, the Library Lovers League, Landmark West, and the Historic Districts Council; all were crucial to this victory. We will continue to work together to be sure the great libraries of our city are cared for and preserved and that their financial and architectural resources are used wisely.
Bill de Blasio's demand during the waning days of the Bloomberg administration for greater transparency and a public review of NYPL alternatives set the stage for yesterday's change of course at the Library. The multiple lawsuits brought by scholars and activists helped insure that no final decisions were made until they could be properly reviewed by the new administration when it came into office.
Borough President Gale Brewer advocated keeping the Mid-Manhattan Library and just days ago Councilmember Dan Garodnick questioned the wisdom of the NYPL's extravagant plans. State Senator Brad Hoylman, State Senator Jose Serrano, State Senator Bill Perkins, Assemblymember Linda Rosenthal, and other elected officials spoke out forcefully to urge the NYPL to heed the public outcry against their plans. Assemblymember Micah Kellner held a crucial hearing so the public could learn what library leaders were reluctant to disclose. Union and community leaders spoke out strongly against the plan, as did many prominent writers. We thank them all and hope they will continue to stand with us.
The turn-around at the New York Public Library is a great beginning, but there is still much to be done. We will continue to press to bring the books back to the stacks so that the 42nd Street Library can serve all the people as a great research library. We will continue urging elected leaders to fully fund the neighborhood branches. And we will continue to demand greater transparency and accountability from the NYPL trustees and  administration.