Prominent de Blasio Allies Call on Mayor to Scrap $150 Million in Taxpayer Funds Earmarked for Central Library Plan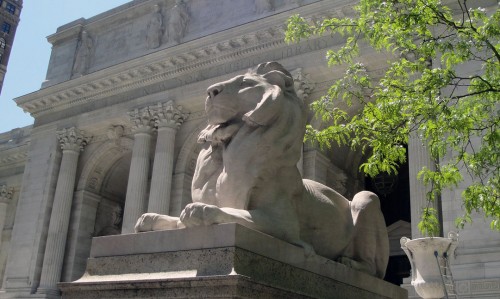 Fourteen prominent New York City progressives, many of them close allies of the mayor, have signed a joint letter urging Mayor de Blasio to save the New York Public Library from its trustees' widely criticized real estate plan. The NYPL plan would sell the Mid-Manhattan and Science, Industry and Business Libraries to luxury real estate developers, demolish the 42nd Street Library research stacks, and shoehorn the operations of the two circulating libraries into the space that until recently housed the research collection. The deal requires a $150 million City taxpayer subsidy, allocated by the previous administration, which the signatories are asking Mayor de Blasio to allocate to struggling branch libraries instead.
The joint statement was signed by George Gresham (President, 1199SEIU United Healthcare Workers East), Hector Figueroa (President, 32BJ SEIU), Barbara Bowen (President, PSC/CUNY faculty, staff union), Dan Cantor (Working Families Party), Ana Oliveira, Luis Garden Acosta (El Puente), Susan Sarandon, Ruth Messinger, Javier Valdes (Make The Road NY), Gloria Steinem, Imam Al-Hajj Talib 'Abdur-Rashid (President, The Islamic Leadership Council of Metropolitan NY), Rev. Donna Schaper (Judson Memorial Church), Rabbi Sharon Kleinbaum (Senior Rabbi of Congregation Beit Simchat Torah), and the Rev. Al Sharpton, and delivered to City Hall April 8, 2014.
"Taking money away from branch libraries to subsidize NYPL's real estate plans will hurt students, seniors, immigrants, jobseekers: the millions of New Yorkers from all walks of life who rely on this public commons," the community leaders write.
The signatories remind Mayor de Blasio of a campaign pledge: "These plans seemed to have been made without any forethought to the building's historical and cultural integrity," de Blasio declared during his campaign, on the steps of the 42nd St Library in July 2013. "Before NYPL goes about demolishing stacks and consolidating libraries, they need to ensure that the people they serve aren't being shortchanged and being disregarded for the bottom line."
This group of prominent progressives joins a growing list of eminent scholars, writers, and artists who have spoken forcefully against the NYPL plan in recent weeks. Comix legend and Pulitzer Prizewinner Art Spiegelman recently created the "Don't Gut Our Lions" protest image above. Acclaimed author Lydia Davis wrote that the plan "would take the very heart out of one of New York City's finest institutions," while poet and memoirist Hettie Jones called it a "plan to decimate what has been a way in and up for generations of New Yorkers." Eight Pulitzer Prizewinners have come out against the plan, along with Jonathan Lethem, Salman Rushdie, E.L. Doctorow, and many other notable cultural figures.
More than 5000 people have emailed Mayor de Blasio in recent weeks to express opposition to the NYPL plan, while library users have held weekly protest "workins" at the 42nd Street Library. As scholar Matthew Pratt Guterl recently explained the sentiment behind this groundswell, "The rich get a sweet venue for their philanthropic dinner parties, and the poor and the middling get less and less and less. If there is a better metaphor for the widening canyon between those who are thriving and those who are hurting, I don't know it."
Read the full letter here. This letter is a joint project of the Committee to Save the NYPL and the Library Lovers League.