NYPL Unveils Brand New Reading Room!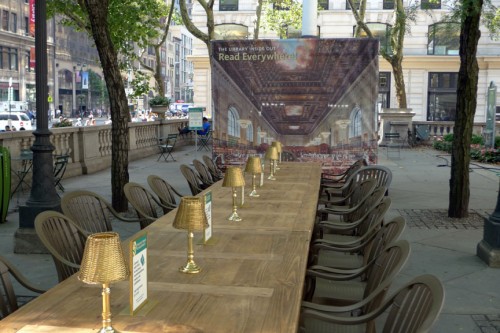 NYPL has just created this bizarre simulacrum of the Main Reading Room on the plaza outside the 5th Avenue  entrance to the 42nd Street Library.  According to NYPL,
 The project, called "The Library Inside Out" encompasses many elements of the beloved Rose Reading Room with some new features.
Well, yes, if the you think the key elements of the beloved Reading Room are fake lamps (they lack both sockets and electrical connections) and a fake backdrop. Those elements most certainly don't include any  research books – research materials of course are not allowed to leave the 42nd building and obviously can't be used in this space.  But don't worry, one of the "new features" is the opportunity to take staged selfies: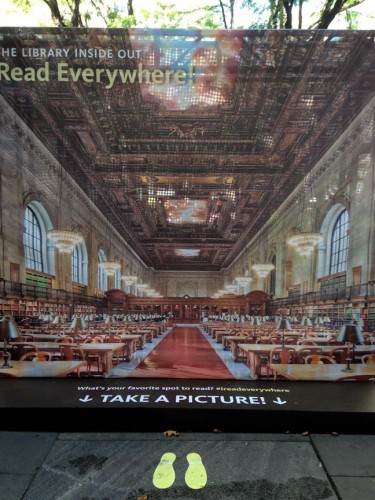 Meanwhile, the real Reading Room remains closed due to plaster collapsing from the ceiling.  Library patrons are forced to work in inadequate and depressing makeshift spaces: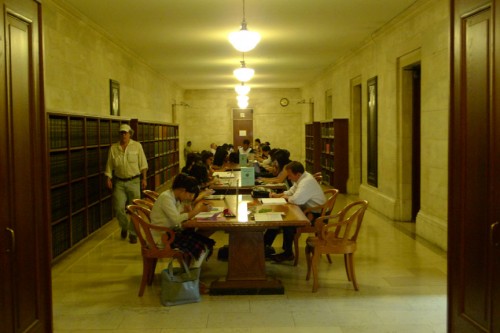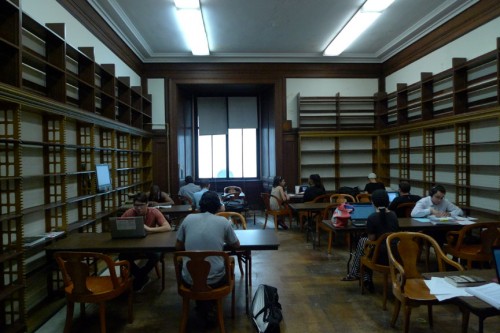 Rumor (and that's all there is – NYPL hasn't seen fit to communicate any updates to the public) has it that a full ceiling inspection won't be undertaken until October and the extent of the damage and necessary repair work won't be known until then.  No repair work is apparently being done at present.  The Reading Room will remain closed until at least the beginning of next year, longer if the inspection reveals extensive problems.