No Trust for Trustees: New Law Reforms Queens Library Board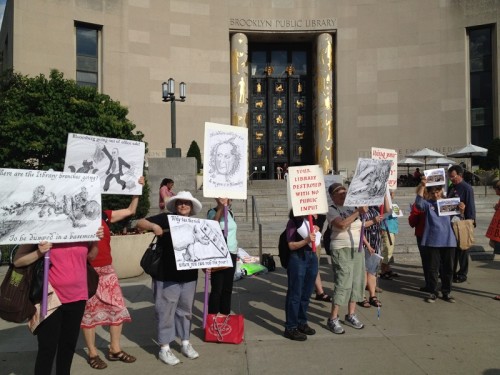 This hasn't been a good week for library trustees.
Yesterday, as outraged protestors led by Citizens Defending Libraries rallied outside Brooklyn Public Library shortly before a trustees meeting, Governor Cuomo signed into law a bill (S.6893-B) that will significantly reform operations of the Queens Public Library Board of Trustees. Introduced by Assembly member Jeffrion Aubry and State Senator Michael Gianaris, the bill passed by a vote of 59-1 last Thursday and was supported by Queens Borough President Melinda Katz and Mayor de Blasio.
Among its provisions, the law establishes an audit committee to monitor the Queens Public Library's expenditures, grants the mayor and borough president the authority to remove trustees, and requires the library to disclose additional revenue.
The bill was prompted by the questionable use of public funds for construction projects overseen by Queens Library President Thomas Galante, currently under investigation by the U.S. Attorney's Office, the Federal Bureau of Investigation and city Department of Investigation.
Earlier this year, the Daily News revealed Galante had spent $27,000 in taxpayer dollars to build a private smoking deck adjacent to his office at a time when librarians were losing their jobs. In a move that illustrates the corruption which necessitated the bill's passage, QPL trustees attempted to grant the soon-to-be-departing Galante an $822,000 bonus. The vote was postponed only after Public Advocate Letitia James threatened to obtain a court order preventing Galante from receiving a golden parachute.
The unconscionable actions of the QPL trustees highlight the grave lack of transparency in library boards across the city, where the public is not allowed to comment at meetings and crucial planning is held in executive session away from public scrutiny. A direct result of this secrecy has been a series of disastrous actions that have harmed our libraries, including the sale of the popular Donnell library (for a meager $39 million in profit), the removal of three million books from the stacks in the 42nd Street library, and the proposed sale and shrinkage of the Brooklyn Heights Library.
The city provides 85% of the Queens library's funding. When trustees no longer consider themselves accountable to the public, our elected officials have an obligation to review their operations and expenditures. The new bill represents a significant improvement in public oversight of our libraries and should be viewed as a model for reforming trustee governance across the city's other library systems.