News & Events
Posted April 16, 2014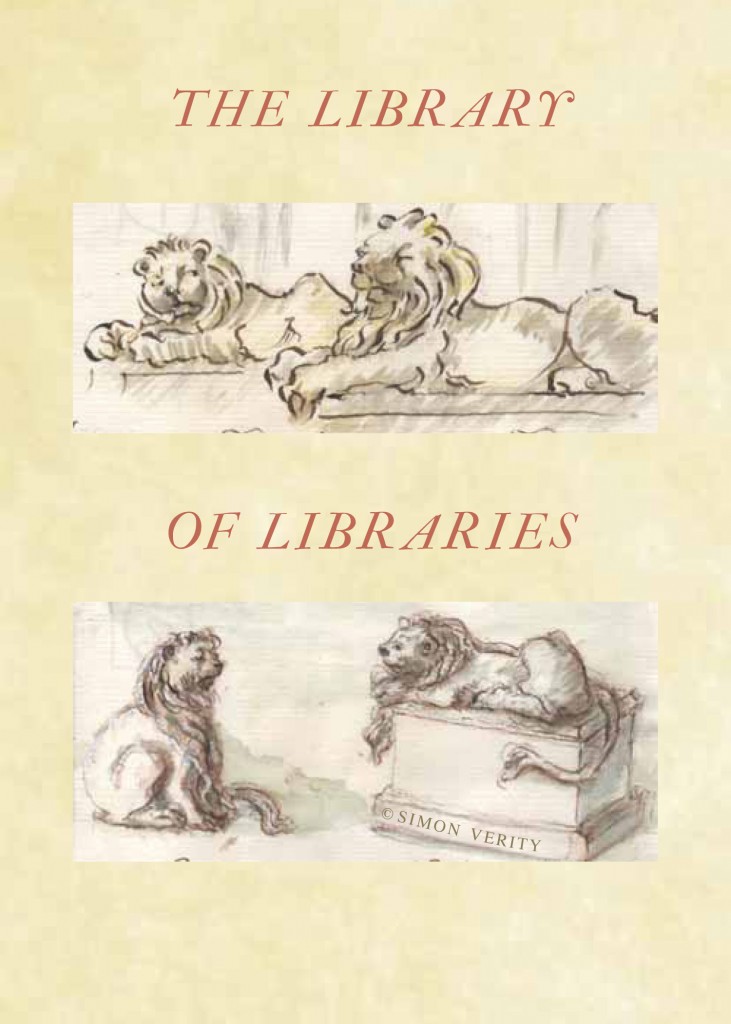 (Update: In addition to the bookstores listed below, The Library of Libraries is now also available from St. Mark's Bookshop, McNally Jackson Books, and Mast Books.)
(Update 2: Hard copies of the The LIbrary of Libraries can now be ordered online from Rizzoli.com.)
The Committee to Save the New York Public Library has a powerful new literary weapon. Renowned British artist and Committee member Simon Verity has penned a modern-day fable, The Library of Libraries. It satirizes the Central Library Plan as a sleight-of-hand by those who envision a high-tech showpiece at the main 42nd Street library on Fifth Avenue rather than a great research institution.
A limited edition print run of 1,000 copies of the book is available in select NYC independent bookstores (including Book Culture, Crawford Doyle Booksellers, and Left Bank Books) for $5.00 each.  It is also available as an ebook on Amazon. Proceeds from book sales will help fund the Committee to Save the New York Public Library's ongoing opposition to the library's multi-pronged plan of destruction and downsizing.
Verity, who both wrote and illustrated the short satire, is a celebrated British stone sculptor and artist who, in the 1990s, transformed the west portal of New York's Cathedral of St. John the Divine into a "Portal of Paradise" with his magnificent statues. His The Library of Libraries tells the tale of the library's takeover by city counselors, portrayed here as rhinoceros. These thick-hided power brokers proclaim to the public that books are passé and that what the city really needs is modern razzle-dazzle on 42nd Street. "The old shelves can be ripped out," they say. "Imagine the huge space we can make for the people. They will celebrate that we are the most brilliant and the most generous of all the people that have ever lived."  After all, what's scholarship matter when you can have sizzle?  "We will tell them that a modern masterpiece is in store for them right in the center of this tired old building."
Meanwhile Patience and Fortitude, the library's stone lions, watch in horror as orders are given to cart away the books. They shudder as preparation begins to rip out the stacks, the great support system of the library that was designed by fabled architects Carrère and Hastings. Finally, Fortitude the lion speaks: "Rich men want people to think they are wonderful, but if their ideas are wrong, they can easily walk away from a city they have ruined. They can buy stone lions and put them in their gardens to protect their money. They don't understand that this is the heart of the whole City, and without it the City will die…"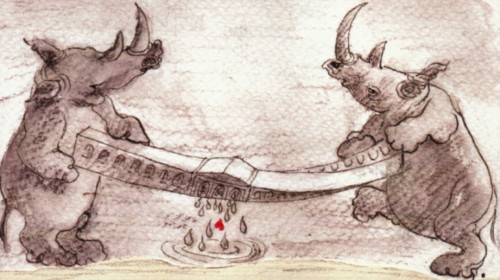 Posted April 8, 2014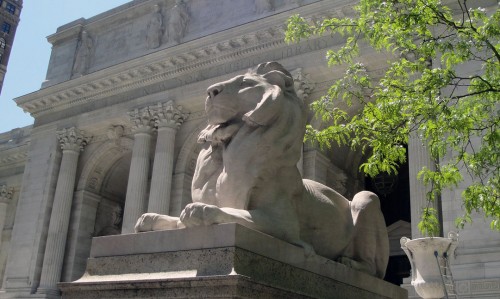 Fourteen prominent New York City progressives, many of them close allies of the mayor, have signed a joint letter urging Mayor de Blasio to save the New York Public Library from its trustees' widely criticized real estate plan. The NYPL plan would sell the Mid-Manhattan and Science, Industry and Business Libraries to luxury real estate developers, demolish the 42nd Street Library research stacks, and shoehorn the operations of the two circulating libraries into the space that until recently housed the research collection. The deal requires a $150 million City taxpayer subsidy, allocated by the previous administration, which the signatories are asking Mayor de Blasio to allocate to struggling branch libraries instead.
The joint statement was signed by George Gresham (President, 1199SEIU United Healthcare Workers East), Hector Figueroa (President, 32BJ SEIU), Barbara Bowen (President, PSC/CUNY faculty, staff union), Dan Cantor (Working Families Party), Ana Oliveira, Luis Garden Acosta (El Puente), Susan Sarandon, Ruth Messinger, Javier Valdes (Make The Road NY), Gloria Steinem, Imam Al-Hajj Talib 'Abdur-Rashid (President, The Islamic Leadership Council of Metropolitan NY), Rev. Donna Schaper (Judson Memorial Church), Rabbi Sharon Kleinbaum (Senior Rabbi of Congregation Beit Simchat Torah), and the Rev. Al Sharpton, and delivered to City Hall April 8, 2014.
"Taking money away from branch libraries to subsidize NYPL's real estate plans will hurt students, seniors, immigrants, jobseekers: the millions of New Yorkers from all walks of life who rely on this public commons," the community leaders write.
The signatories remind Mayor de Blasio of a campaign pledge: "These plans seemed to have been made without any forethought to the building's historical and cultural integrity," de Blasio declared during his campaign, on the steps of the 42nd St Library in July 2013. "Before NYPL goes about demolishing stacks and consolidating libraries, they need to ensure that the people they serve aren't being shortchanged and being disregarded for the bottom line."
This group of prominent progressives joins a growing list of eminent scholars, writers, and artists who have spoken forcefully against the NYPL plan in recent weeks. Comix legend and Pulitzer Prizewinner Art Spiegelman recently created the "Don't Gut Our Lions" protest image above. Acclaimed author Lydia Davis wrote that the plan "would take the very heart out of one of New York City's finest institutions," while poet and memoirist Hettie Jones called it a "plan to decimate what has been a way in and up for generations of New Yorkers." Eight Pulitzer Prizewinners have come out against the plan, along with Jonathan Lethem, Salman Rushdie, E.L. Doctorow, and many other notable cultural figures.
More than 5000 people have emailed Mayor de Blasio in recent weeks to express opposition to the NYPL plan, while library users have held weekly protest "workins" at the 42nd Street Library. As scholar Matthew Pratt Guterl recently explained the sentiment behind this groundswell, "The rich get a sweet venue for their philanthropic dinner parties, and the poor and the middling get less and less and less. If there is a better metaphor for the widening canyon between those who are thriving and those who are hurting, I don't know it."
Read the full letter here. This letter is a joint project of the Committee to Save the NYPL and the Library Lovers League.
Posted April 7, 2014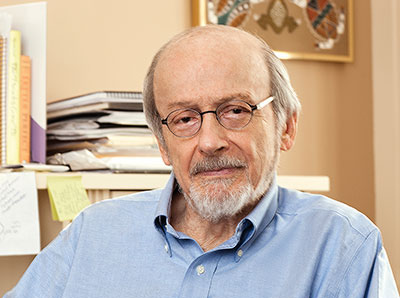 Acclaimed novelist and long-time library supporter E.L. Doctorow gets straight to the point!
Whatever its rationale, advertised or secretly savored, the Central Library Plan is an act of such manic mutilation as to constitute a death wish for the 42nd St Research  Library.
Posted March 27, 2014
"Maus" comix legend and Pulitzer Prize-winner Art Spiegelman on the NYPL's plans for the 42nd Street Library: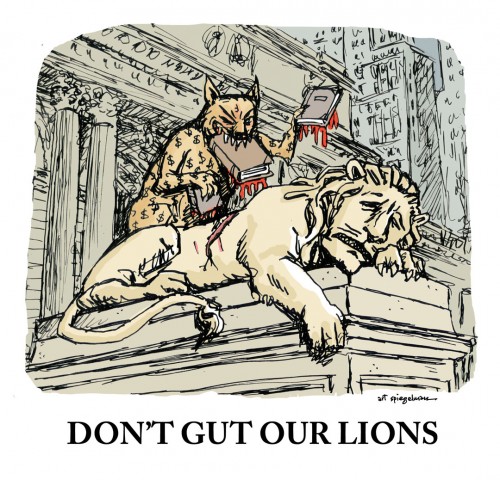 Posted
On Saturday, March 29, Lynn's Kids International Organization, a non-profit organization for the advancement of underprivileged children, and Citizens Defending Libraries, a group fighting to protect New York City libraries, will meet outside of the 42nd Street Library for a short walk asking our elected officials to protect library branches throughout the city – our public treasures.
New York Public Library and Brooklyn Public Library trustees and leadership are pushing to sell and shrink some of the largest and most successful branches in Manhattan and Brooklyn. They already sold the much-beloved Donnell Library and are busy replacing it with a luxury high rise with a shrunken library in the basement.
We can not let this attack on treasured public assets continue.  March with us as we let New Yorkers and our elected officials know we stand to protect libraries, the great nurturers of our society!
More information at the Moveon event:
WHERE:
42nd Street Library (on the steps of the library between Patience and Fortitude)
WHEN:
Saturday, March 29, 10:00 AM
WHO:
Lynn's Kids International,Saving Souls, Citizens Defending Libraries, Ponce Hope Foundation, Visions International 1, Move On, United For Action, Library Lovers League, United Federation Of Teachers, Mothers For Sustainable Energy, One Day On Earth, Citizen Action of NY – NYC Chapter, Committee to Save the NYPL
Posted March 25, 2014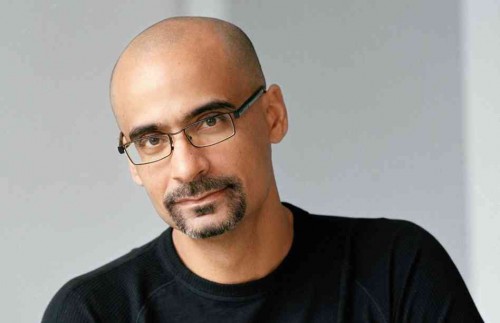 photo ©Nina Shubin
Pulitzer Prize-winning author Junot Diaz:
To destroy a library is to destroy the dream of civilization. To destroy the NY Public Library is to destroy our sixth and best borough; that beautiful corner of New York City where all are welcome and all are equals, and where many of us were first brought to the light.  The Library is the borough I love best and the one we need to fight hardest to preserve —for in its many branches and countless shelves lie our best hope for a better world.  It really is that simple: Save the Library, save New York. Save the Library, save the future.  Write Mayor de Blasio and remind him of his promises and of our covenant with our libraries and with our future.
Posted March 21, 2014
Edmund Morris – Pulitzer Prize and National Book Award-winning biographer of Theodore Roosevelt, Ronald Reagan, and Ludwig van Beethoven – adds his voice against the Central Library Plan:
Sir Norman Foster's mandate to squash the contents of two New York Public Library branches into the Main Building on Fifth Avenue is a volumetric impossibility made feasible only by the shipping of millions of books, many of them irreplaceable, to storage in Princeton, New Jersey. Researchers hitherto accustomed to a half-hour delay in calling up such books have been assured that in future they will have to wait a mere two days. Their orders will be delivered in the same kind of truck that exploded a week or so ago in the Turnpike State, destroying thousands of items of first-class mail.

Quite aside from the plan's effects on scholarship, there is the question of mutilation of a revered and magnificent building. As Ada Louise Huxtable pointed out in her last article before dying, this "renovation" (a word the Library's public relations office has begun to chant like a mantra) would require the demolition and removal of the Carnegie steel stacks that buttress the entire structure – replacing them with a new skeleton conformed to give as much space as possible to internet browsers, earphone junkies, and tourist groups.

New Yorkers can take comfort – of a sort – in the knowledge that somewhere in the Library's executive vaults there is a 50-page, single-spaced debenture (sure never to be transported to New Jersey) guaranteeing that whatever happens to the Main Building – even if it's destroyed by an incoming meteorite – what rises in its place will still be named after Stephen A. Schwarzman.
Posted
State Senator José M. Serrano has just called on Mayor de Blasio to stop the Central Library Plan!
 I am writing to respectfully request that you take the necessary measures to prevent the advancement of this plan…

Moreover, I am also concerned about the overcrowding that would take place under the new proposal. Library patrons will be forced to squeeze into the Central Library. Collections from the two libraries that were sold off will be housed in the already crowded Central Library and will be consolidated into a space that is one third the size they currently have. This will significantly increase the wait time to access materials as well as harm the Central Library's architectural integrity. This will just overextend a library that is consistently at capacity, further proliferating waiting time and greatly diminishing the available work space.
Read his full statement here.
Posted March 19, 2014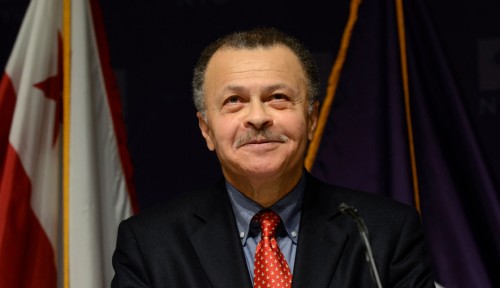 David Levering Lewis, two-time Pulitzer Prize-winning biographer of W.E.B. DuBois (and 2002 Library Lion), joins the chorus of outrage about the NYPL:
For some time, a hypothesis that dared not speak its name has reigned over the NYPL debate. Several months ago, this hypothesis was nourished by an opinion served up by the sharp-eyed New York correspondent for Le Monde who detected "des ambitions immobilieres" ("real estate motivations") concealed within the grand scheme.

Even without the benefit of Cartesian clarity, a concerned citizen might find it hard to resist understanding the impending desecration of the architectural and institutional masterpiece designed by Carrere and Hastings at 42d Street and Fifth Avenue otherwise than in the following manner as implied by the French newspaper: that the sale of the seven-story Mid-Manhattan Circulating Library and its air rights on Fifth Avenue at 40th is a developer's dream, as was the greatly regretted sale of the Donnell Library across from MOMA.

You really find yourself strongly inclined to concur with Manhattan Institute's Nicole Gelinas in the July 8, 2013, edition of the New York Post—that what NYPL calls the Central Library Plan is a "real estate fiction."
Posted March 18, 2014
Fantastic article in The Guardian. Matthew Zadrozny is back, standing tall for library nerds the world over!
The virtual destruction of the New York Public Library rests on faulty premises. In a world of cheap personal computers, ubiquitous internet access and vanished book stores, libraries will always be special. For in addition to preserving manuscripts that may never be digitized, providing services to communities, and lending e-books to remote users, library collections entice citizens to meet in public spaces – and not just for the experience of reading on paper. Readers come for the ageless experience of browsing the shelves and commenting on one another's dust jackets. Should the plan here in New York go through, the 42nd Street Library may soon find that its terminals are as empty as the ethernet ports carved into the tables of the Main Reading Room…

And so one wonders where we might be had the library's president, Anthony Marx, focused his famous salesmanship on getting a "baseline" library budget from the City and persuading the magnates on the board to multiply the endowment. Instead, the library quietly spent over $10 million on consultants, PR, and a celebrity architect, while making a mockery of public input.
Read the full article here.