New York Times: Mayor de Blasio Faces a Decision on Central Library Plan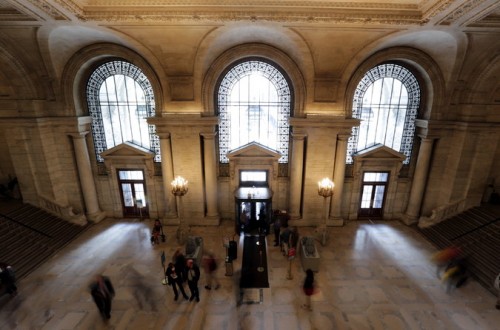 The New York Times reports today on the decision facing Mayor de Blasio on whether to spend $150 million of NYC taxpayer's money on the NYPL's proposal to gut the 42nd Street Library and sell the Mid-Manhattan and SIBL libraries.
Incidentally, don't buy into NYPL's framing – this isn't a "renovation"; this is the disemboweling of a great library and the sale/shrinkage of two others!
As a candidate last summer, Bill de Blasio told Mayor Michael R. Bloomberg that New York City should stop financing the ambitious renovation of the Fifth Avenue flagship of the New York Public Library until someone figured out how much it was all going to cost.

Now that Mr. de Blasio is mayor, he holds that very power, and people on both sides of the question are weighing in on how he should wield it as the city budgeting process begins.

For the time being, Mr. de Blasio has let stand the $150 million in capital funds that the Bloomberg administration pledged to the renovation project. But the cost analysis that he called for last summer has yet to be completed, and his office has said its final funding decisions on the library and other capital projects will not be made until the spring.
Now is the perfect time to send an email to the mayor asking him to do the right thing and save the 42nd Street Library, along with the Mid-Manhattan library and $150 million of desperately needed city funds!
Read the full New York Times article here.