Monthly Archives: March 2014
"Maus" comix legend and Pulitzer Prize-winner Art Spiegelman on the NYPL's plans for the 42nd Street Library: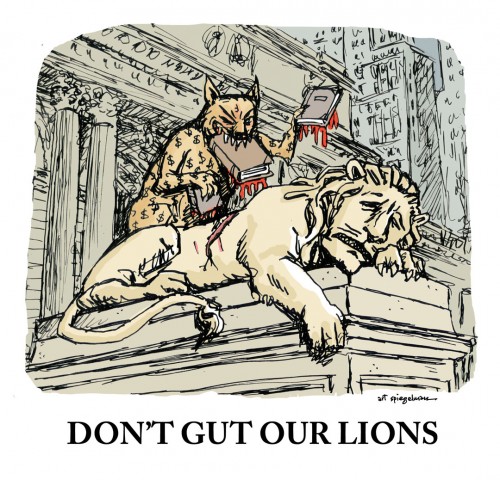 On Saturday, March 29, Lynn's Kids International Organization, a non-profit organization for the advancement of underprivileged children, and Citizens Defending Libraries, a group fighting to protect New York City libraries, will meet outside of the 42nd Street Library for a short walk asking our elected officials to protect library branches throughout the city – our public treasures.
New York Public Library and Brooklyn Public Library trustees and leadership are pushing to sell and shrink some of the largest and most successful branches in Manhattan and Brooklyn. They already sold the much-beloved Donnell Library and are busy replacing it with a luxury high rise with a shrunken library in the basement.
We can not let this attack on treasured public assets continue.  March with us as we let New Yorkers and our elected officials know we stand to protect libraries, the great nurturers of our society!
More information at the Moveon event:
WHERE:
42nd Street Library (on the steps of the library between Patience and Fortitude)
WHEN:
Saturday, March 29, 10:00 AM
WHO:
Lynn's Kids International,Saving Souls, Citizens Defending Libraries, Ponce Hope Foundation, Visions International 1, Move On, United For Action, Library Lovers League, United Federation Of Teachers, Mothers For Sustainable Energy, One Day On Earth, Citizen Action of NY – NYC Chapter, Committee to Save the NYPL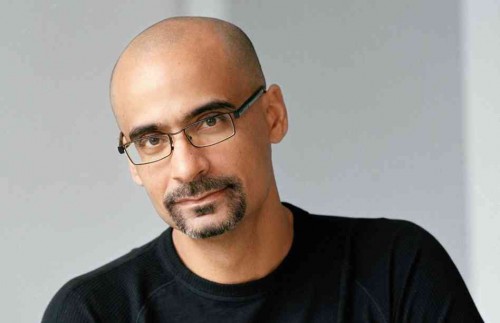 photo ©Nina Shubin
Pulitzer Prize-winning author Junot Diaz:
To destroy a library is to destroy the dream of civilization. To destroy the NY Public Library is to destroy our sixth and best borough; that beautiful corner of New York City where all are welcome and all are equals, and where many of us were first brought to the light.  The Library is the borough I love best and the one we need to fight hardest to preserve —for in its many branches and countless shelves lie our best hope for a better world.  It really is that simple: Save the Library, save New York. Save the Library, save the future.  Write Mayor de Blasio and remind him of his promises and of our covenant with our libraries and with our future.
Edmund Morris – Pulitzer Prize and National Book Award-winning biographer of Theodore Roosevelt, Ronald Reagan, and Ludwig van Beethoven – adds his voice against the Central Library Plan:
Sir Norman Foster's mandate to squash the contents of two New York Public Library branches into the Main Building on Fifth Avenue is a volumetric impossibility made feasible only by the shipping of millions of books, many of them irreplaceable, to storage in Princeton, New Jersey. Researchers hitherto accustomed to a half-hour delay in calling up such books have been assured that in future they will have to wait a mere two days. Their orders will be delivered in the same kind of truck that exploded a week or so ago in the Turnpike State, destroying thousands of items of first-class mail.

Quite aside from the plan's effects on scholarship, there is the question of mutilation of a revered and magnificent building. As Ada Louise Huxtable pointed out in her last article before dying, this "renovation" (a word the Library's public relations office has begun to chant like a mantra) would require the demolition and removal of the Carnegie steel stacks that buttress the entire structure – replacing them with a new skeleton conformed to give as much space as possible to internet browsers, earphone junkies, and tourist groups.

New Yorkers can take comfort – of a sort – in the knowledge that somewhere in the Library's executive vaults there is a 50-page, single-spaced debenture (sure never to be transported to New Jersey) guaranteeing that whatever happens to the Main Building – even if it's destroyed by an incoming meteorite – what rises in its place will still be named after Stephen A. Schwarzman.
State Senator José M. Serrano has just called on Mayor de Blasio to stop the Central Library Plan!
 I am writing to respectfully request that you take the necessary measures to prevent the advancement of this plan…

Moreover, I am also concerned about the overcrowding that would take place under the new proposal. Library patrons will be forced to squeeze into the Central Library. Collections from the two libraries that were sold off will be housed in the already crowded Central Library and will be consolidated into a space that is one third the size they currently have. This will significantly increase the wait time to access materials as well as harm the Central Library's architectural integrity. This will just overextend a library that is consistently at capacity, further proliferating waiting time and greatly diminishing the available work space.
Read his full statement here.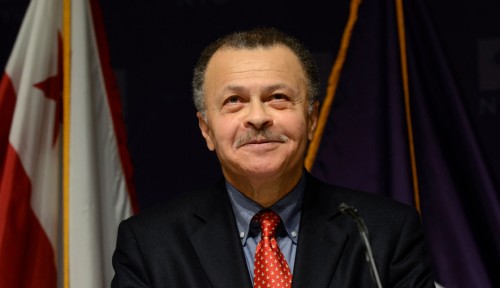 David Levering Lewis, two-time Pulitzer Prize-winning biographer of W.E.B. DuBois (and 2002 Library Lion), joins the chorus of outrage about the NYPL:
For some time, a hypothesis that dared not speak its name has reigned over the NYPL debate. Several months ago, this hypothesis was nourished by an opinion served up by the sharp-eyed New York correspondent for Le Monde who detected "des ambitions immobilieres" ("real estate motivations") concealed within the grand scheme.

Even without the benefit of Cartesian clarity, a concerned citizen might find it hard to resist understanding the impending desecration of the architectural and institutional masterpiece designed by Carrere and Hastings at 42d Street and Fifth Avenue otherwise than in the following manner as implied by the French newspaper: that the sale of the seven-story Mid-Manhattan Circulating Library and its air rights on Fifth Avenue at 40th is a developer's dream, as was the greatly regretted sale of the Donnell Library across from MOMA.

You really find yourself strongly inclined to concur with Manhattan Institute's Nicole Gelinas in the July 8, 2013, edition of the New York Post—that what NYPL calls the Central Library Plan is a "real estate fiction."
Fantastic article in The Guardian. Matthew Zadrozny is back, standing tall for library nerds the world over!
The virtual destruction of the New York Public Library rests on faulty premises. In a world of cheap personal computers, ubiquitous internet access and vanished book stores, libraries will always be special. For in addition to preserving manuscripts that may never be digitized, providing services to communities, and lending e-books to remote users, library collections entice citizens to meet in public spaces – and not just for the experience of reading on paper. Readers come for the ageless experience of browsing the shelves and commenting on one another's dust jackets. Should the plan here in New York go through, the 42nd Street Library may soon find that its terminals are as empty as the ethernet ports carved into the tables of the Main Reading Room…

And so one wonders where we might be had the library's president, Anthony Marx, focused his famous salesmanship on getting a "baseline" library budget from the City and persuading the magnates on the board to multiply the endowment. Instead, the library quietly spent over $10 million on consultants, PR, and a celebrity architect, while making a mockery of public input.
Read the full article here.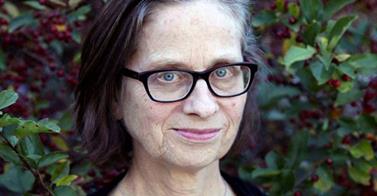 Strong words of support from prize-winning author and MacArthur Fellow Lydia Davis:
I couldn't feel more strongly about the importance of keeping the 42nd Street research library intact, restoring the books to its stacks, and protecting the ongoing separate existence of the Mid-Manhattan and SIBL branches.  Instead of misguidedly "consolidating" libraries, closing branches, exiling books from the city, we should be doing just the opposite: investing in our wonderful local branches, adding to their shelves, their staff, and their hours, and making our central research library at 42nd street the best-stocked, most accessible repository it can be.

Libraries remain uniquely democratic institutions, offering a way into learning and thinking for anyone who walks in.   And books are the heart of a library.  The Central Library Plan, so obviously an irresponsible real estate deal that places pure greed for profit over the advancement of learning and enlightenment, would take the very heart out of one of New York City's finest institutions.  I have, up to now, been deeply proud of our magnificent 42nd street library–I don't want to see it ravaged.   I fervently hope that Mayor de Blasio has the foresight and integrity to recognize the importance of preventing this devastation.
Thank you to all the people who braved the rain to send a message to the NYPL trustees at yesterday's rally!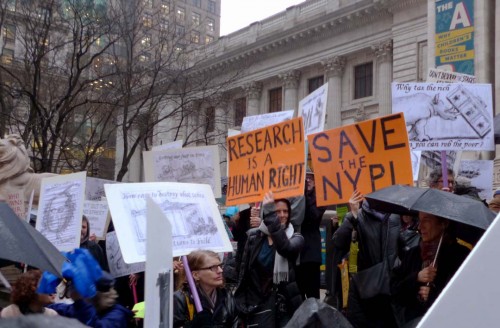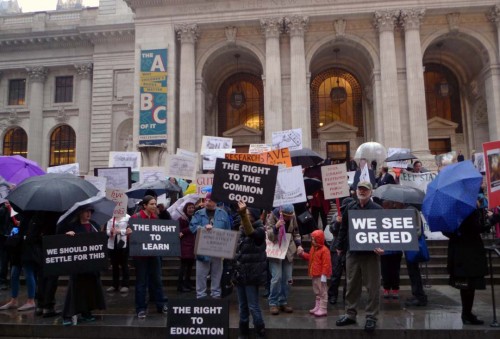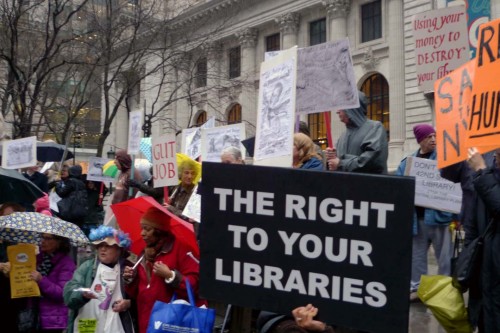 And of course we had to include Mayor de Blasio, as a reminder of the commitment he made on these same steps last July to halt the Central Library Plan!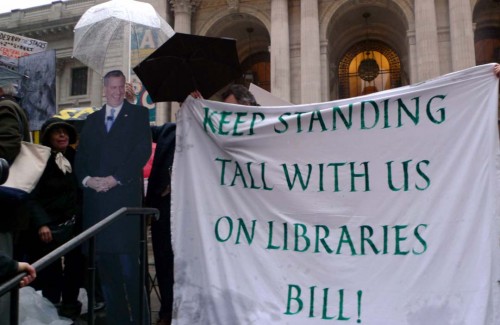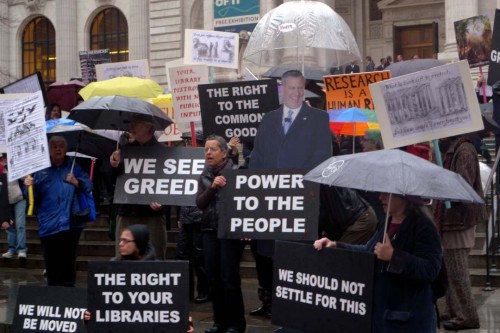 On the eve of Wednesday's rally, the Illuminator shines some light on the NYPL!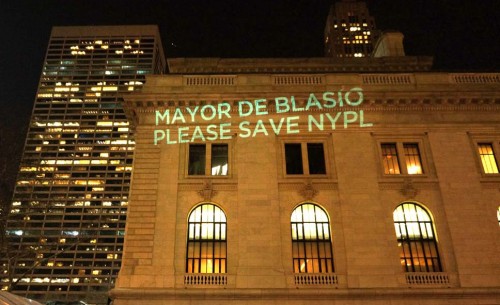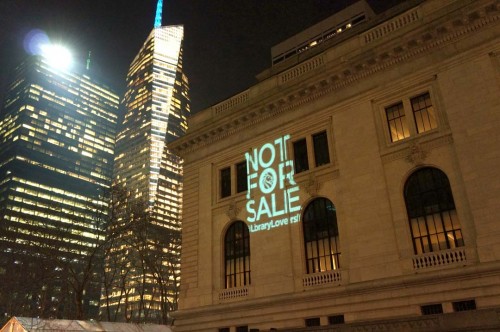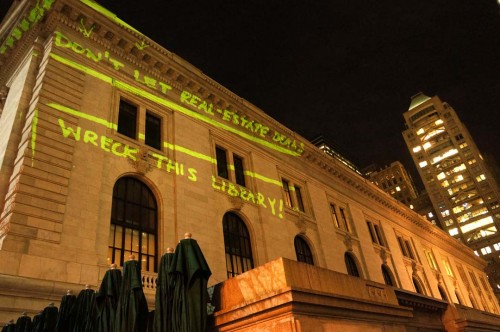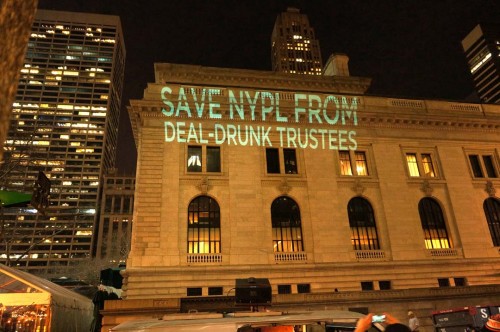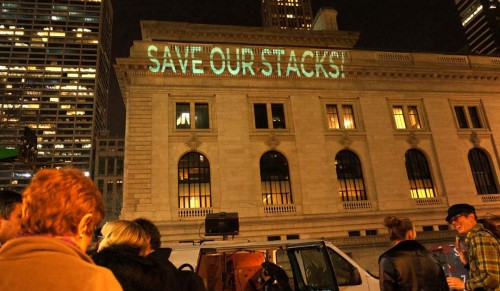 And some love for the Mid-Manhattan Library as well: