Rally at the 42nd Street Library Wednesday, March 12 Rain or Shine! (and City Council Hearing March 11)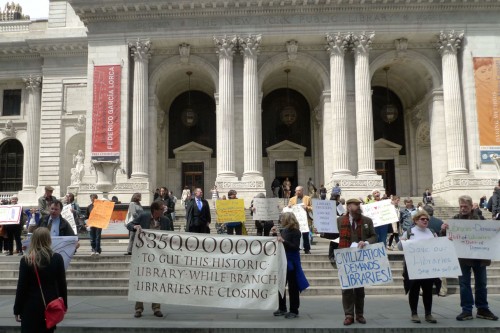 THE TRUSTEES ARE MEETING! Join us this Wednesday, March 12, for a rally on the steps of the 42nd Street Library during the NYPL's Board of Trustees meeting. The rally will be from 5-6 PM, rain or shine – just one hour, after work. We'll have signs, or make your own.  We can stop the plan to gut the 42nd Street Library and sell the Mid-Manhattan!
Last July, Bill de Blasio stood on the steps of the Library and called for a halt to the Central Library Plan. On Wednesday, we will return to those steps and ask Mayor de Blasio to follow through on his commitment. Instead of spending $150 million in taxpayer funds on this wasteful and destructive project, he should reallocate that money to support branch libraries across the city!
WHEN: Wednesday, March 12, 5:00 PM – 6:00 PM Rain or Shine
WHERE: Fifth Avenue and 41st Street in front of the main entrance to the 42nd Street building.
And if you haven't already, PLEASE SEND AN EMAIL RIGHT NOW TO MAYOR DE BLASIO asking him to stop the NYPL's plan.
This event is cosponsored by Citizens Defending Libraries and Library Lovers League.
ALSO:
CITY COUNCIL LIBRARY BUDGET HEARING ON TUESDAY, MARCH 11
The City Council Committee on Cultural Affairs, Libraries and International Intergroup relations and the Select Committee on Libraries will take place on Tuesday, March 11 in the City Hall Council Chambers (entrance through City Hall Park gate on the east side of Broadway across from Murray Street).
The libraries part of the hearing will start at 1:00 pm followed at 2:30 by the Cultural Affairs part. Public comments are scheduled for 4:00 pm.
It would be very helpful to have supporters attend the 1:00 PM hearing, and if you can stay to testify at 4pm to testify, even better. Make a sticker to wear, or hold a piece of paper or card stock no larger than 8.5 x 11 inches with a message such as "Don't spend $150 million to gut the 42nd Street Library" or "Don't sell the Mid-Manhattan Library."  (Signs larger than 8.5 x 11 will NOT be permitted in the hearing room.)
This is a great opportunity to demonstrate our opposition to NYPL's destructive plans to the Council Members charged with oversight of the library budget.
Please spread the word about both the rally and the hearing at your church, union, school, Facebook page, blog or any other outlet you see fit. This is fight we can win.